Cassette & Cartridge

Recorders

Please note: None of the items
in this museum are for sale!

Statistics 2014 • 2015 • KXAN Austin Recording Museum Update • view overview video of tape recorder collection • mobile video • more info

Cartridge & Cassette Tape Recorders

Click on the tabs below to go to other reel to reel brands

Year

Model

Ad

Unit in Museum collection

Specifications

RCA IYC 11

Cartridge Recorder

This RCA IYC 11 Cartridge recorder was donated to our collection by Bruce Truitt. It was released in 1958 to provide an easier way to play tape without the hassle of threading. It preceded the Phillips Compact Cassette and unfortunately was discontinued in 1964. However RCA was still promoting the cartridge concept in 1965 and 1966 as evidenced by the #s 2 and 3 ads to the left.

Collection of RCA cartridge tapes • USO "A Letter on a Record" with Philco Home Recording blanks and Empire State Building souvenir disk were all donated by Bruce Truitt

Wonderful old video about this recorder. Cartridge presentation begins at 7.5 minutes

Freq Response
Signal to Noise
Speed 1.875 & 3.75 ips

Motors 1

Reels none - cartridge
Timing accuracy
Weight 12 lb
Price

RCA tape cartridge

The RCA tape cartridge (also known as the Magazine Loading Cartridge and Sound Tape) was a magnetic tape format designed to offer stereo quarter-inch reel-to-reel tape recording quality in a convenient format for the consumer market. It was introduced in 1958, following four years of development. This timing coincided with the launch of the stereophonic phonograph record.

The main advantage of the RCA tape cartridge over reel-to-reel machines was convenience. The user was not required to handle unruly tape ends and thread the tape through the machine before use, making the medium of magnetic tape more friendly to casual users. The same design concept would later be used in the more successful Compact Cassette which was invented by Philips in 1962. Because of its convenience, the RCA tape cartridge system did see some success in schools, particularly in student language learning labs.


Size comparison of RCA tape cartridge (right) with the more common Compact Cassette
Similar to the Compact Cassette, cartridges were reversible and either side could be played. An auto reverse mechanism in some models allowed the tape to run continuously. The cartridge played at a standard speed of 3.75 IPS. This was half of the top speed of consumer reel-to-reel music recorders, which usually offered both 3.75 IPS and 7.5 IPS speeds. Such consumer reel-to-reel machines were capable of superior audio performance, but only at the faster speed.

The RCA tape cartridge format offered four discrete audio tracks that provided a typical playtime of 30 minutes per side of stereo sound, or double that for monophonic sound.Some models could also play and record at 1.875 IPS, doubling playing time with a significant reduction in sound quality. This speed was not practical for music, but fully acceptable for voice recording.

With two interleaved stereo pairs, the track format and speed of the RCA tape cartridge was fully compatible with the slower 3.75 IPS speed of consumer reel-to-reel stereo tape recorders. It is possible to dismantle the cartridge, spool the tape onto a reel, and play it on such a machine.

Unlike the later Compact Cassette, the RCA tape cartridge incorporated a brake to prevent the tape hubs from moving when the cartridge was not in the player. Small slot windows extended from the tape hubs toward the outside of the cartridge so that the amount of tape visible on each spool could be seen.

Despite its convenience the RCA tape cartridge was not a success. A factor in the failure of the system was that RCA was slow to produce machines for the home market. They were also slow to license pre-recorded music tapes for home playback. The format disappeared from retail stores by 1964.

The physical track width and speed of the tape and even the size of the RCA tape cartridge was similar to, though incompatible with, Sony's Elcaset system, introduced in 1976. That system also failed to achieve market acceptance and was soon withdrawn.

---

3M Revere M2 Cartridge recorder

The Revere M2 (MII) Cartridge machine

I restore classic TVs and stereos as a hobby... the Mll was quite a challenge. When I lived in the Twin Cities I volunteered at the Pavek Museum helping maintain their 1" and quad VTRs. BTW I'm a retired TV broadcast engineer. Richard Sigurdson AKA "Xmttrman".more

The Revere Camera Company was started in 1920 by Mr. Samuel Briskin, who also started Wollensak Recorders and Opticals.


Founded in 1920 in Chicago, Illinois, USA as the Excel Radiator Company by Ukrainian immigrant Samuel Briskin to manufacture car radiators, but started manufacturing some coarse household products later in the decade. They started making budget 8 mm movie cameras in 1939 through a subsidiary run by Briskin's sons. That company was later merged into Excel Radiator Co. which then changed its name to Revere Camera Co. The Revere name is taken from the Revere Copper Company, which provided financial backing for Excel during the depression.

In the '50s the company was the second largest manufacturer of small movie cameras in the USA. In order to grow that business further the company took over their primary lens and shutter supplier, New Jersey-based Wollensak Optical Co. The Revere brand name had become synonymous with budget cameras; soon after the take-over Wollensak models appeared that were mechanically almost-identical to the standard Revere models but had better lenses, more stylish casing, and sold for a premium price.


Revere started manufacturing tape recorders in the early 1950s, that side of the business never became an important part of the company's output.


Revere, starting probably in the 1950s, also produced a fairly high quality rotary tool very much like the Dremel tools now on the market. The Revere-O-Matic was a 0.55 ampere model that operated at 15,000 r.p.m. (Model No. RG-1). All the tools that attached to it via the chuck can be used with today's Dremel models. The standard package also came with a table mounting device and a system for enabling creation of identical objects, also adaptable to today's Dremel with no modification required.


Samuel Briskin was diagnosed with inoperable cancer in 1960 and rather than leave the company to his family he decided to sell the company to 3M for 17 million USD

---

Wikipedia

Sony Elcaset

Elcaset was a short-lived audio format jointly developed by Panasonic, Sony and Teac in 1976, building on an idea introduced 20 years earlier in the RCA tape cartridge.

In 1976, it was widely felt that the compact cassette was never likely to be capable of the same levels of performance that was available from reel-to-reel systems, yet clearly the cassette had advantages in terms of convenience. The Elcaset system was intended to marry the performance of reel to reel with cassette convenience. The name "Elcaset" may simply mean L-cassette, or large cassette, since the 1/4" tape inside was double the 1/8" width found in standard cassettes. They were divided into six tracks.


Size comparison of Elcaset (left) with standard Compact Cassette
The cassette itself looked very similar to a standard cassette, only larger—about twice the size. Like the earlier RCA tape cartridge it contained 6 mm (0.25 in) tape running at 9.5 cm/s (3.75 in/s), twice the width and twice the speed of a standard cassette, providing greater frequency response and dynamic range with lower high-frequency noise than the compact cassette. Another notable difference from compact cassettes was that the tape was withdrawn from the cassette when run through the transport mechanism so that the manufacturing tolerances of the cassette shell did not affect sound quality. The top-of-the-line Elcaset decks also had all the features of deluxe open reel decks, such as separate heads for erase, recording, and playback, remote control, and heavy duty transports for low wow & flutter.

Here's photos of the 1979 Sony EL-8D ElCaset recorder provided to the Museum by Vladimir Fedotenko. On the right is the Technics Elcaset

The system was technically sound, but a complete failure in the marketplace, with a very low take up by a few audiophiles only. Apart from the problem of the bulky cassettes, the performance of standard cassettes had improved dramatically with the use of new materials such as chromium dioxide, Dolby B noise reduction, and better manufacturing quality. For most people, the quality of standard cassettes was adequate, and the benefits of the expensive Elcaset system limited. Audiophiles turned away from Elcaset and towards high-end cassette decks from companies like Nakamichi, which began making very high-quality tape decks using the regular audio cassette in late 1973. The tapes they made could be played on any standard cassette machine. Also, the machines were expensive.] Elcaset began a fast fade-out in 1978.

The system was abandoned in 1980, when all the remaining systems were sold off in Finland. Wikipedia

---

This Company Is Still Making Audio Cassettes and Sales Are Better Than Ever

---

Data cassette reel to reel tape recorders

Cassette Tape Recorders in our collection

Year

Model

Ad

Unit in Museum collection

Specifications

1974

Akai 500 Auto-reversing Cassette Player

Akai 500

Freq Response 30-16,000
Signal to Noise 55db
Speed 1.875 ips

Motors 2

Timing accuracy ?
Weight 28 lb
Price

$349.95

1970

Freq Response ?
Signal to Noise ?
Speed 1.875 ips
Motors 1
Timing accuracy ?
Weight 2.75 lb
Price

$89.95

1970

Freq Response ?
Signal to Noise ?
Speed 1.875 ips
Motors 1
Timing accuracy ?
Weight 2.75 lb
Price $79.95 - $109.95

This is our original Marantz 5420 and was used for cassette masters and also used on location for a mixer (utilized the 4 channel input and "pan" capabilities).

Freq Response 30-17,000
Signal to Noise .60
Speed 1.875 ips

Motors 1

Timing accuracy .07%
Weight 20.6 lb
Price

$399.95

Marantz PMD201 Professional - 3 head cassette recorder/player

Freq Response
Signal to Noise
Speed 1.875 ips

Motors 1

Timing accuracy
Weight lb
Price

$399.95

Freq Response 30-17,000
Signal to Noise .60
Speed 1.875 ips

Motors 1

Timing accuracy .07%
Weight 20.6 lb
Price

$399.95

3 point microphone mixing unit

Freq Response 30-17,000
Signal to Noise 47db
Speed 1.875 ips

Motors 1

Timing accuracy .07%
Weight 20.6 lb
Price

11,000 yen

Freq Response ?
Signal to Noise ?
Speed 3.75ips

Motors 1

Reels compact cassette
Timing accuracy ?
Weight ?
Price $ ?

Freq Response 40 - 20,00 kHz
Signal to Noise 45 Db
Speed 1.875, 3.75 & 7.5 ips

Motors 1

Reels 7" /compact cassette/8Track
Timing accuracy .3%
Weight 36 lbs
Price $359.95

For more, please go to this link

1988

Sharp Reversing portable cassette tape recorder

Sharp Reversing portable cassette tape recorder with Graphic Equalizer

Freq Response ?
Signal to Noise ?
Speed 1.875 ips

Motors 1

Timing accuracy ?
Weight 1 lb 4 oz
Price

$ ?

1981

Sony ElCaset EL-4

Sony Elcaset EL-4 1976 - 1978

Freq Response 25-22,000
Signal to Noise 25db
Speed 3.75 ips

Motors 3

Timing accuracy .04%
Weight 1 lb 4 oz
Price

$399.95

1981

Sony TCS-310

The prototype was built in 1978 by audio-division engineer Nobutoshi Kihara for Sony co-chairman Masaru Ibuka, who wanted to be able to listen to operas during his frequent trans-Pacific plane trips. The original Walkman was marketed in 1979 as the Walkman in Japan and, from 1980, the Soundabout in many other countries including the US, Freestyle in Sweden and the Stowaway in the UK. Advertising, despite all the foreign languages, still attracted thousands of buyers in the US specifically. Morita hated the name "Walkman" and asked that it be changed, but relented after being told by junior executives that a promotion campaign had already begun using the brand name and that it would be too expensive to change. Company information

Sony TCS-310 1981

Ampex Micro 7 with Sony TCS-310

Freq Response 40-14,000
Signal to Noise ?
Speed 1.875 ips

Motors 1

Timing accuracy .07%
Weight 1 lb 4 oz
Price

$399.95

1979

Superscope Cassette C-202 LP

Superscope Cassette C-202 LP

Freq Response 40-14,000
Signal to Noise ?
Speed 1.875 ips

Motors 1

Timing accuracy .07%
Weight lb oz
Price

$

Freq Response 30-17,000
Signal to Noise .60
Speed 3.75 ips

Motors 1

Timing accuracy .07%
Weight 20.6 lb
Price

$399.95

R2D2 made by Tiger

Teac 80-8 used in Star Wars movie to record R2D2's sounds.

R2D2 Replica (complete with sounds). Teac 80-8 was used to record the sounds of R2D2 and 3CPO in the Star Wars movie

Freq Response ?
Signal to Noise .60
Speed 3.75 ips

Motors 1

Timing accuracy ?
Weight 4 lb
Price

$34.95

Teac Tascam 234

Freq Response 30-17,000
Signal to Noise .60
Speed 1.875 ips

Motors 3

Timing accuracy .07%
Weight 20.6 lb
Price

$399.95

Teac Tascam133

Freq Response 30-17,000
Signal to Noise .60
Speed 1.875 ips

Motors 3

Timing accuracy .07%
Weight 20.6 lb
Price

$399.95

Teac Tascam 302

Optical Leader Sensing for Quick Auto Reverse
±10% Pitch Control Independent for Each Deck
Independent Audio I/O for Each Deck (Unbalanced RCA)
RTZ (Return To Zero) Function on Each Deck
Headphone Output w/ Level Control
Optional RC-302 Wired Remote
Optional WR-7000 Cascade Cables
3-U Rack Mountable Dual Bi-Directional Cassette Deck
Dual Well Simultaneous Record (Can Record Common or Separate Source)
Sequential Playback or Record Mode
Cascade I/O and Logic for Multi-Machine Operation
Normal (1x) and High (2x) Speed Dubbing Capability
Dolby B and C with HX Pro Headroom Extension
Electronic Tape Counter
Record Mute Function (On RC-302)

Freq Response 25-19,000
Signal to Noise59 db
Speed 1.875 ips

Motors 1

Timing accuracy 1.0%
Weight 18.5 lb
Price

$399.95

---

Unique Cassette Recorders

The Ampex Alpha 1 Miniture Cassette Tape Recorder

Superscope Pianocorder Reproducing System

The Superscope Pianocorder Reproducing System was launched in the late 1970's. It was also available factory-installed in the Marantz Reproducing Piano. The Pianocorder systemprovided a modern alternative to traditional player-piano rolls. It used ordinary cassette tape as a storage medium and played the piano directly from commands stored on the cassette tape.

Superscope created a fairly extensive library of material for the Pianocorder system, available on over 30 ten-cassette volumes. A large portion of these recordings were made by converting reproducing piano rolls to Pianocorder format. Several famous pianists, including Liberace, George Shearing, and Oscar Peterson, produced recordings directly on Superscope's Bosendorfer concert grand piano.

8-Track Recorders

The endless loop tape cartridge was designed in 1952 by Bernard Cousino (left) of Toledo, Ohio, around a single reel carrying a continuous loop of standard 1/4 inch plastic oxide-coated recording tape running at 3 3/4 inches/second (9.5 cm/s). Program starts and stops were signalled either by a conductive foil splice or sub-audible tones. The tape was pulled from the center of the reel, passed across the opening at the end of the cartridge and wound back onto the outside of the same reel. The spool itself was freewheeling and the tape was driven only by tension from the capstan.

George Eash, also of Toledo, an inventor who had rented space in Cousino's building in the 1950s, later revised Cousino's design (1954, receiving a patent in January 1957) and marketed it under the name Fidelipac. These cartridges were first used in radio stations (broadcast cartridges) from 1959 on to program commercials and single song hits.

Entrepreneur Earl "Madman" Muntz of Los Angeles, California saw a potential in these broadcast carts for an automobile music tape system, and in 1962 introduced his "Stereo-Pak 4-Track Stereo Tape Cartridge System" and prerecorded tapes, initially in California and Florida. He licensed popular music albums from the major record companies and duplicated them on these 4-track cartridges, or CARtridges, as they were first advertised.

Previously, music in the car had been restricted mostly to radios. Records, due to their methods of operation and size, were not practical for use in a car, although several companies tried to market an automobile record player — that is where the Motorola Corporation derives its name (motor + Victrola = Motorola).

Notable celebrities such as Frank Sinatra had 4-track players installed in their cars. Music was released on 4-track tape for automobile enjoyment and later for home use.

Muntz manufactured 4-track tape players and pre-recorded 4-track cartridges until approximately late 1970, by which time the Stereo 8 8-track tape had become the dominant format. Columbia Records was one of the few major record labels to release music recorded on 4-track cartridges on a widespread basis.

The Stereo-Pak cartridge had four monaural or two pairs of stereo tracks. To switch back and forth between the two program tracks, a manual lever is engaged, which physically moves the head up and down mechanically. The Stereo-Pak did not switch tracks automatically, unlike the later Stereo 8 cartridges.

The tape was coated with a slippery backing material patented by Cousino, usually graphite, to ease the continuous slip between the tape layers. This coating sometimes also caused the pinch roller to slip, leading to poor speed control and tape flutter. Due to these problems, 4-track cartridges were never popular with audiophiles. While the design allowed simple and cheap players, unlike a two-reel system it didn't permit winding of the tape in either direction. Some players offered a limited fast-forward by speeding up the motor while cutting off the audio but rewinding was impossible.

After taking a ride with Muntz in a 4-track player-outfitted car, Bill Lear, maker of the Lear Jet, modified the 4-track technology to create the Stereo 8 cartridge, widely known as the 8-track. Most notably, eight tracks were squeezed onto the same ¼" tape, reducing potential audio quality, but allowing twice as much music to be put onto the same length of tape. The pinch roller was also an integral part of the 8-track cartridge, although many early rubber rollers would suffer from deterioration because the rubber had not been fully cured. Once this was discovered, all later rubber pinch rollers were "fully cured" (hard) rubber, or plastic rollers (introduced by RCA in 1970) were used instead. Thanks to his connection to Motorola, which made radios for Ford Motors cars, Lear was able to ensure that 8-track players would be included in many Ford cars, and they became popular mainly during the early- to mid-1970s. 4-track tapes gradually faded away and were gone by late 1970, as most people switched to 8-tracks, although players compatible with both 4-track and 8-track tapes were sometimes made. Inexpensive adapters were available that permitted 4-track tapes to be played in 8-track players. The adapter was a rubber pinch roller attached to a small metal plate that would clip into the opening in the 4-track cartridge. 4-track tapes are still in-demand by collectors.

Differences between 4-track and 8-track cartridges[edit]

The size "A" [4 inch wide] Fidelipac cartridge (or NAB cartridge), often used in radio broadcasting, was also used for Stereo-Pak recordings.
The Stereo-Pak differs from Stereo 8 in its ¼" magnetic tape contains four data (music) tracks, whereas 8-tracks have twice the tracks in the same amount of space. Thus, 4-track tapes have the potential for higher audio fidelity.

The main difference in 4-track cartridge design from 8-tracks is that 4-tracks lack a built-in pinch roller (usually made out of rubber or plastic) which would grip and help move the tape; a hole is left in the cartridge for a pinch roller to be inserted from inside the 4-track player itself. The large opening in the bottom of the 4-track cartridge, for admission of the pinch roller, leaves 4-track tapes more susceptible to trapping dirt and other substances besides those normally found inside cartridges, and requires a greater level of mechanical complexity in the player, as the pinch roller must be inserted and retracted vertically through the bottom of the cartridge.

Other uses[edit]
In the 1970s through the mid-1980s burglar alarms could (in some jurisdictions) be equipped with a tape dialer which would dial a number and repeat a recorded message when the alarm was tripped. Many of these tape dialers used the 4-track transport described here. They have been largely replaced with digital technology, e.g., Ademco SESCOA format dialer.

They were also popular with radio broadcasting and were used for playing commercials and songs, but were eventually replaced by CD's and computers.

summary by Wikipedia

1950's Pentron EchoMatic Cusino

THIS UNIT(right)WAS MADE BY PENTRON COUSINO IN THE 1950'S, A PIONEER IN THE FIELD OF AUDIO TAPE CARTRIDGES. THESE WERE USED PROMINENTLY IN ARCADE GAMES, RIDES,ETC. ( SPECIFICALLY IN THE "GYPSY FORTUNE TELLER" ARCADE AMUSEMENT GAMES). THIS UNIT IS SELF-CONTAINED WITH THE PLAYER MECHANISM, AMPLIFIER AND SPEAKER. IT ALSO HAS A 1'4" INPUT THAT WILL ACCEPT A GUITAR OR MICROPHONE

Billboard Jun 13, 1960

Billboard Sep 12, 1960

1973

1974

1977

---

8-track machines in our collection

Freq Response ?
Signal to Noise ?
Speed 3.75ips

Motors 1

Reels 8 track cartridge
Timing accuracy ?
Weight ?
Price $ ?

Freq Response 40 - 20,00 kHz
Signal to Noise 45 Db
Speed 1.875, 3.75 & 7.5 ips

Motors 1

Reels 7" /compact cassette/8Track
Timing accuracy .3%
Weight 36 lbs
Price $359.95

For more, please go to this link

Sony TDR 820 8-Track recorder

Freq Response
Signal to Noise
Speed

Motors 1

Reels 8Track
Timing accuracy
Weight lbs
Price $

Click on the tabs below to go to other reel to reel brands

Please select a reel tape recorder company from the list below
A Brief History of Sound and the Automobile
Around 1920, vacuum tube technology had matured to the point where the availability of radio receivers created the audience that made radio broadcasting viable. A technical challenge was that the vacuum tubes in the radio receivers required 50 to 250 volt direct current but car batteries ran at 6V. Voltage was stepped up with a vibrator that provided a pulsating DC which could be converted to a higher voltage with a transformer, rectified, and filtered to create higher-voltage DC.

In 1930, the American Galvin Manufacturing Corporation marketed a Motorola branded radio receiver for $130. It was expensive: the contemporary Ford Model A cost $540. In 1932 in Germany the Blaupunkt AS 5 medium wave and longwave radio was marketed for 465 Reichsmark, about one third of the price of a small car. Because it took nearly 10 litres of space, it could not be located near the driver, and was operated via a steering wheel remote control. In 1933 Crossley Motors offer a factory fitted car radio. An FM receiver was offered by Blaupunkt in 1952. In 1953, Becker introduced the AM/FM Becker Mexico with and a station-search or scan function.

In April 1955, the Chrysler Corporation had announced that it was offering a Mopar model 914HR branded Philco all transistor car radio as a $150 option for its 1956 Chrysler and Imperial car models. Chrysler Corporation had decided to discontinue its all transistor car radio option at the end of 1956, due to it being too expensive, and replaced it with a cheaper hybrid (transistors and low voltage vacuum tubes) car radio for its new 1957 car models. In 1963 Becker introduced the Monte Carlo, a tubeless solid state radio, with no vacuum tubes.

In 1964 Philips launched the Compact Cassette, and in 1965 Ford and Motorola jointly introduced the 8-track tape in-car tape player. In subsequent years cassettes supplanted the 8-track, and improved with longer play times, better tape quality, auto-reverse, and Dolby noise reduction. They were popular throughout the 1970s and '80s. Stock and aftermarket compact disc players began appearing in the late 1980s, competing with the cassette. The first car with an OEM CD player was the 1987 Lincoln Town Car, and the last new car in the American market to be factory-equipped with a cassette deck in thedashboard was a 2010 Lexus.
---
Radios are so much a part of the driving experience, it seems like cars have always had them. But they didn't. Here's the story.
SUNDOWN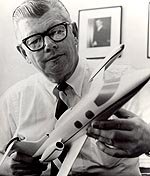 One evening in 1929 two young men named William Lear (June 26, 1902 to May 14, 1978) and Elmer Wavering (1907 to 1998) drove their girlfriends to a lookout point high above the Mississippi River town of Quincy, Illinois to watch the sunset. It was a romantic night to be sure, but one of the women observed that it would be even nicer if they could listen to music in the car.

Lear and Wavering liked the idea. Both men had tinkered with radios – Lear had served as a radio operator in the U. S. Navy during World War I – and it wasn't long before they were taking apart a home radio and trying to get it to work in a car. But it wasn't as easy as it sounds: automobiles have ignition switches, generators, spark plugs, and other electrical equipment that generate noisy static interference, making it nearly impossible to listen to the radio when the engine was running.
SIGNING ON
One by one, Lear and Wavering identified and eliminated each source of electrical interference. When they finally got their radio to work, they took it to a radio convention in Chicago . There they met Paul Galvin, owner of Galvin Manufacturing Corporation. He made a product called a "battery eliminator" a device that allowed battery-powered radios to run on household AC current. But as more homes were wired for electricity, more radio manufacturers made AC-powered radios. Galvin needed a new product to manufacture.
When he met Lear and Wavering at the radio convention, he found it. He believed that mass-produced, affordable car radios had the potential to become a huge business.
Lear and Wavering set up shop in Galvin's factory, and when they perfected their first radio, they installed it in his Studebaker. Then Galvin went to a local banker to apply for a loan. Thinking it might sweeten the deal, he had his men install a radio in the banker's Packard. Good idea, but it didn't work – half an hour after the installation, the banker's Packard caught on fire. (They didn't get the loan.)
Galvin didn't give up. He drove his Studebaker nearly 800 miles to Atlantic City to show off the radio at the 1930 Radio Manufacturers Association convention. Too broke to afford a booth, he parked the car outside the convention hall and cranked up the radio so that passing conventioneers could hear it. That idea worked – he got enough orders to put the radio into production.
WHAT'S IN A NAME
That first production model was called the 5T71. Galvin decided he needed to come up with something a little catchier. In those days many companies in the phonograph and radio businesses used the suffix "ola" for their names – Radiola, Columbiola, and Victrola were three of the biggest. Galvin decided to do the same thing, and since his radio was intended for use in a motor vehicle, he decided to call it the Motorola.
But even with the name change, the radio still had problems:
When Motorola went on sale in 1930, it cost about $110 uninstalled, at a time when you could buy a brand-new car for $650, and the country was sliding into the Great Depression. (By that measure, a radio for a new car would cost about $3,000 today.)
In 1930 it took two men several days to put in a car radio – the dashboard had to be taken apart so that the receiver and a single speaker could be installed, and the ceiling had to be cut open to install the antenna. These early radios ran on their own batteries, not on the car battery, so holes had to be cut into the floorboard to accommodate them. The installation manual had eight complete diagrams and 28 pages of instructions.
HIT THE ROAD
Selling complicated car radios that cost 20 percent of the price of a brand-new car wouldn't have been easy in the best of times, let alone during the Great Depression – Galvin lost money in 1930 and struggled for a couple of years after that. But things picked up in 1933 when Ford began offering Motorolas pre-installed at the factory. In 1934 they got another boost when Galvin struck a deal with B. F. Goodrich tire company to sell and install them in its chain of tire stores. By then the price of the radio, installation included, had dropped to $55. The Motorola car radio was off and running. (The name of the company would be officially changed from Galvin Manufacturing to "Motorola" in 1947.)
In the meantime, Galvin continued to develop new uses for car radios. In 1936, the same year that it introduced push-button tuning, it also introduced the Motorola Police Cruiser, a standard car radio that was factory preset to a single frequency to pick up police broadcasts. In 1940 he developed with the first handheld two-way radio – the Handie-Talkie – for the U. S. Army.
A lot of the communications technologies that we take for granted today were born in Motorola labs in the years that followed World War II. In 1947 they came out with the first television to sell under $200. In 1956 the company introduced the world's first pager; in 1969 it supplied the radio and television equipment that was used to televise Neil Armstrong's first steps on the Moon. In 1973 it invented the world's first handheld cellular phone. Today Motorola is one of the second-largest cell phone manufacturer in the world. And it all started with the car radio.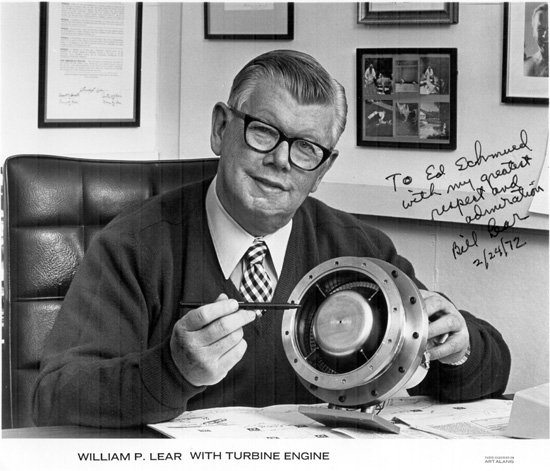 WHATEVER HAPPENED TO….
The two men who installed the first radio in Paul Galvin's car, Elmer Wavering and William Lear, ended up taking very different paths in life. Wavering stayed with Motorola. In the 1950's he helped change the automobile experience again when he developed the first automotive alternator, replacing inefficient and unreliable generators. The invention lead to such luxuries as power windows, power seats, and, eventually, air-conditioning.
Lear also continued inventing. He holds more than 150 patents. Remember eight-track tape players? Lear invented that. But what he's really famous for are his contributions to the field of aviation. He invented radio direction finders for planes, aided in the invention of the autopilot, designed the first fully automatic aircraft landing system, and in 1963 introduced his most famous invention of all, the Lear Jet, the world's first mass-produced, affordable business jet. (Not bad for a guy who dropped out of school after the eighth grade.)
---
We include her, the Motorola version of the creation of the first car radio
1930: The First Motorola Brand Car Radio
Even the Great Depression couldn't stop Motorola founder Paul V. Galvin. When he learned about technicians fitting home radios into automobiles, he recognized the potential of the new technology. Galvin engaged a team of talented engineers to build and install one of the first commercially successful car radios in the world. Motorola created a new market and ultimately became a global leader in communications technologies.


Difficult times
Paul V. Galvin and his brother Joseph started the Galvin Manufacturing Corporation in Chicago in 1928 to manufacture battery eliminators. These electronic devices enabled battery-powered home radios to operate on household electric current. But in 1929, a stock market crash devastated the U.S. economy and the battery eliminator was becoming obsolete. The Galvins needed a new product for their small business to survive.

A radio parts company founded by William P. Lear was located in the same factory building as Galvin Manufacturing Corporation. Lear technicians, including chief production engineer Don H. Mitchell, were experimenting with radio technologies. Despite the worsening economy, the markets for automobile and radio technologies were growing rapidly. Paul Galvin realized that consumer demand would continue. He decided Galvin Manufacturing could develop an affordable radio that could be installed in most popular automobile models.


Design challenges
Galvin engaged a team that combined the talents of Lear and Galvin Manufacturing radio engineers. In addition, young Elmer Wavering, who later was inducted into the Automotive Hall of Fame, joined the effort. The team faced difficult technical problems: overcoming electrical interference, finding space in the car for large radio components, and building it sturdy enough to endure rough roads. Galvin encouraged them to keep working to find a solution.

In May 1930, Galvin announced plans to drive his Studebaker automobile from Chicago, Illinois, to Atlantic City, New Jersey, U.S.A., a distance of about 850 miles (1368 kilometers). He intended to demonstrate the new radio at the Radio Manufacturers Association Convention in June. With only one month left to complete a working model, the team worked day and night.

A few days before Galvin departed, the crew successfully built a radio that received a clear signal with the car motor running. By squeezing some radio parts inside and others under the floor, the radio fit into the car. Although rough roads from Chicago to New Jersey tested the radio to its limits, it withstood the journey.

Public showing
Galvin Manufacturing Corporation wasn't registered for the June 1930 Radio Manufacturers' show, and Paul Galvin had no display booth or appointments with prospective customers. There was no money in the company's budget for marketing. Instead, Galvin parked his car at the entrance to the Atlantic City pier and boosted the radio's volume with loudspeakers to attract attention. With his wife, Lillian, helping to demonstrate the radio, he encouraged show attendees to take a look. When visitor traffic was slow, he went inside the hall to convince people to come outside for a demonstration.


Galvin returned to Chicago with enough sales orders to ensure that the company would survive to face the next challenges: sales, manufacturing and installation on a large scale.

Birth of the Motorola brand
Paul Galvin wanted a brand name for Galvin Manufacturing Corporation's new car radio-something memorable. He created the name "Motorola" to suggest sound in motion (from "motor" and the then-popular suffix "ola"). The Motorola brand name became so well-known that Galvin Manufacturing Corporation later changed its name to Motorola, Inc.

A commercial success
The car radio installation continued to challenge the engineers. Elmer Wavering remembered, "If somebody bought a new car and decided to put in a car radio, they'd get a real shock. They saw us go in and rip out the brand newheadlining in the car, drill holes into the floor for our batteries, and rig up a whole complicated electrical system with a network of wires." With every installation, the team gained experience.
Paul Galvin and Elmer Wavering traveled around the United States selling radios and teaching new dealers how to install them correctly. With business growing, a fleet of Motorola sales and service trucks with factory-trained sales engineers soon supported radio dealers with sales, service and installation.

Due to determination and innovative engineering, the Motorola model 5T71 radio became one of the world's first commercially successful car radios. With sales that first year reaching internationally to Mexico, the Motorola car radio connected thousands of people with news and entertainment in their "second home"-- the automobile. Motorola
---
And then there were records in cars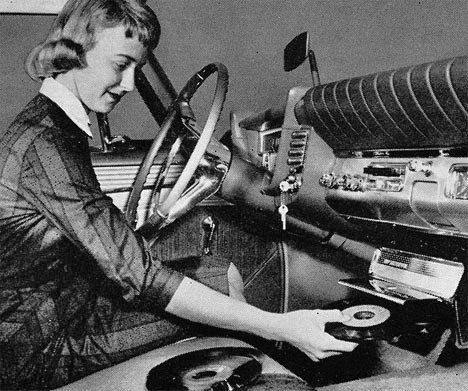 Knowing how easy it is to scratch records or make them skip with the slightest bump, it might seem counter-intuitive to put a record player into a moving car. But the automobile record player, first introduced by Chrysler in 1956, contained a number of features that would keep the music going even when there were bumps in the road.
The in-car record player rotated more slowly than standard record players, and the arm was cushioned and counterweighted to keep it from scratching the record. The Highway Hi-Fi, as it was called by Chrysler, was quite popular in its time – though that popularity wouldn't last long.
Part of its downfall can be attributed to the fact that the Highway Hi-Fi required special records; you couldn't simply pull a record off of the shelf and play it on your road trip. Rather, drivers had to purchase all of their music again in the new proprietary format. Since the machine was only available on new vehicles and not as an aftermarket accessory, there wasn't a huge commercial demand for it. Moreover, the devices had the nasty habit of breaking often and Chrysler wasn't thrilled with the cost of fixing all of those under-warranty units. By 1957, just one year after their initial introduction, Chrysler started withdrawing support for the ill-fated gadgets.
---
Tour our collection!
We offer seven hours of 50 video segments via download about our collection and the history of magnetic recording available at this link.

ORDER THE VIDEO FILES ON LINE - was 14.95 NOW only $9.95
There are 50 QuickTime H264 854 X 480 files in this download. Play on MAC OS or Windows Media Player
We provide 48 hours during which to download the files. After that the file access will expire. Once the files are downloaded they are yours to keep.
© 2018 Museum of Magnetic Sound Recording • Webmaster • All pictures and content on this web site are the property of the Theophilus family,the Museum of Magnetic Sound Recording and reel2reeltexas.com • Photos of items in our collection are available for sale. We do NOT provide copies of ads, nor photos from other sources! All photo work is billed at studio rates and a deposit is required.