While Floyd is widely recognized for his years with Asleep at the Wheel and the revival of Western Swing, Floyd began his career with a broad grounding in jazz, boogie woogie, swing and blues piano. Floyd's sparkling keyboards and versatility make him the choice of swing, jazz and blues musicians well beyond his Austin, Texas home.
In addition to Asleep at the Wheel, Floyd has recorded and performed with Merle Haggard, George Strait (5 albums), The Texas Playboys, Waylon Jennings, jazz guitarist Herb Ellis, Kelly Willis, Bruce Robison, Monte Warden, Don Walser and the Crickets to name a few.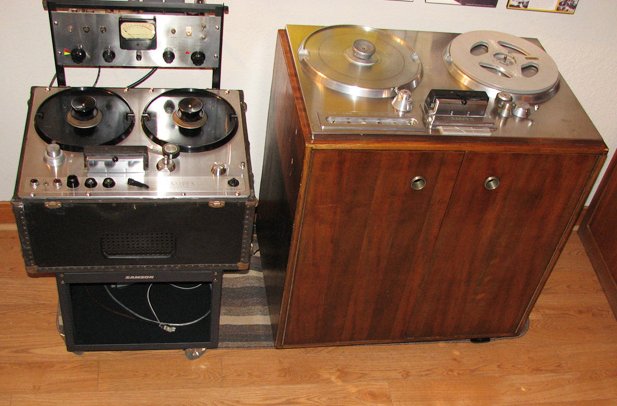 Over and above his numerous awards Austin-based Floyd Domino has played at the Kennedy Center, Inaugural events and has even been heard in outer space by way of George Strait's #1 hit, "Ace In The Hole", beamed up to the crew of the space shuttle Columbia in a wake-up call.
Floyd was interviewed at Phantom Productions' studio for the Museum of Magnetic Sound Recording. In the course of the interview we learned that Asleep At The Wheel recorded demos at Golden State Recording Studios in San Francisco. Our museum has an Ampex 200A reel to reel tape recorder that originally belonged to Capitol Records and subsequently to Leo De Gar Kulka "The Baron" who was the owner of Golden State. The museum also owns Golden State Studios' Ampex 300 reel tape recorder.
| | | |
| --- | --- | --- |
| | Early Asleep At The Wheel band | |
| | | |
| | | |
View MOMSR's interview with Ray Benson, Asleep At The Wheel
News coverage #1 News coverage #2 • view overview video of tape recorder collection • mobile video • more info

Tour our collection!
We offer seven hours of 50 video segments via download about our reel to reel tape recorder and microphone collection and the history of magnetic recording available at this link.

ORDER THE VIDEO FILES ON LINE - was 14.95 NOW only $9.95
There are 50 QuickTime H264 854 X 480 files in this download. Play on MAC OS or Windows Media Player
While most content deals with the history and manufacturers of the reel to reel tape recorder, or tape deck, we cover many aspects of magnetic recording.
We provide 48 hours during which to download the files. After that the file access will expire. Once the files are downloaded they are yours to keep.
© 2018 Museum of Magnetic Sound Recording • Webmaster • All pictures and content on this web site are the property of the Theophilus family,the Museum of Magnetic Sound Recording and reel2reeltexas.com • Photos of items in our collection are available for sale. We do NOT provide copies of ads, nor photos from other sources! All photo work is billed at studio rates and a deposit is required.