Teac Tascam BR-20T

reel to reel

tape recorder

News coverage #1
News coverage #2
•
• mobile video
•
more info
The Vintage DVD set is not currently available. The entire 7 hour production is downloadable for $9.95 at this link.
view trailer of the 7 hour collection
Teac Tascam Reel To Reel Tape Recorders
Year

Model

Ad

Unit in Museum collection

Specifications

Tascam BR-20T

2 track mastering recorder with center track time code. Tascam rep says this was the last analog reel to reel tape recorder to be manufactured by Tascam

Freq Response 35 - 22,000 cps @ 7.5
Signal to Noise 60 db
Speed 7.5 & 15

Motors 3

Reels 10.5"
Timing accuracy .01%
Weight 62 lbs
Price $4,000.00

2 track mastering deck specs

A reminder that the prices listed are what the item originally sold for in the year it was released.
In 1992, the BR-20T was released, and was to be the last reel to reel recorder Tascam made. It was in production up to around 2004.
Parallel I/O port for connection to SMPTE/EBU based synchronizers/controllers
Balanced +4 dbm inputs/outputs for professional connections
Remote transport start and stop via the fader control of suitably equipped mixer
3-point Memory, entered either 'on the fly' or via Select and Number features
Repeat playback over the desired segment of the tape
5 point auto locator, return to zero, locate to three memo points and direct locate
Spool mode for uniform tape pack
Maximum +/-12% speed variation both in record and playback
Output/meter source selector switch for each channel source - Tascam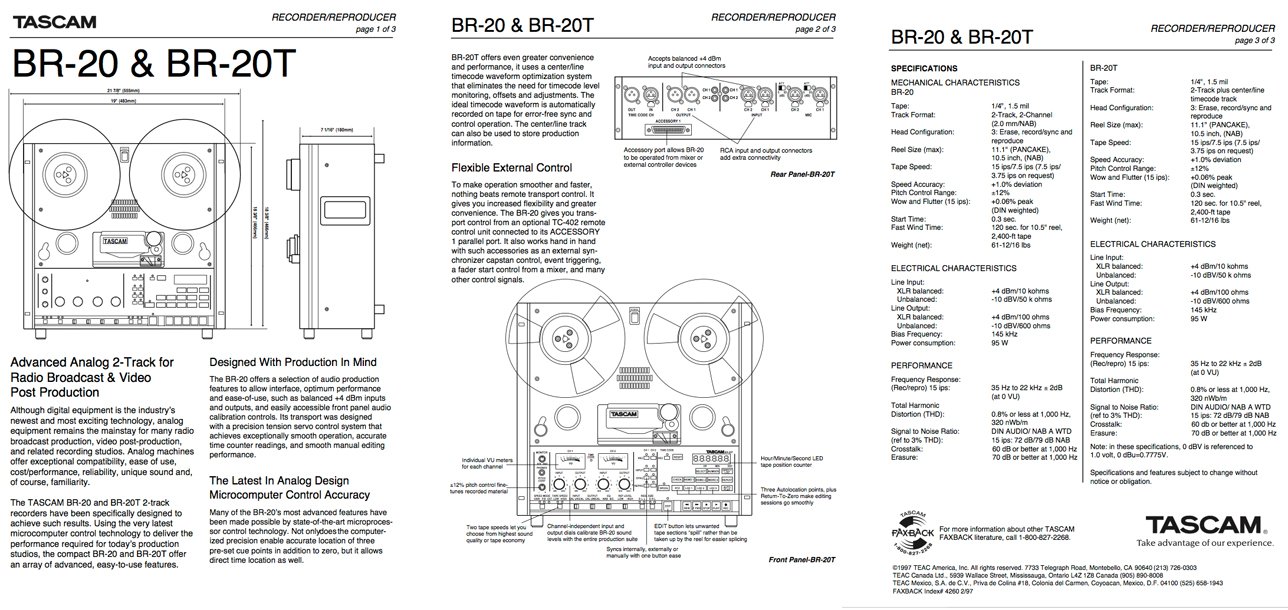 ---
Many of the photos below have been sent to us from a variety of sources. If any of them are yours and we need to credit you or remove them, please let us know. Thank you!
Please select a reel tape recorder company from the list below
Thank you for viewing our site! We hope you have found our information helpful and interesting.
Tour our collection!
We offer seven hours of 50 video segments via download about our collection and the history of magnetic recording available at this link.

ORDER THE VIDEO FILES ON LINE - was 14.95 NOW only $9.95
There are 50 QuickTime H264 854 X 480 files in this download. Play on MAC OS or Windows Media Player
We provide 48 hours during which to download the files. After that the file access will expire. Once the files are downloaded they are yours to keep.
© 2018 Museum of Magnetic Sound Recording • Webmaster • All pictures and content on this web site are the property of the Theophilus family,the Museum of Magnetic Sound Recording and reel2reeltexas.com • Photos of items in our collection are available for sale. We do NOT provide copies of ads, nor photos from other sources! All photo work is billed at studio rates and a deposit is required.