United Kingdom - Brenell & Spectone

reel to reel tape recorders
Manufacturer Profiles 0
This is a list of information we have gathered from a variety of sources on some of the major analog reel to reel tape recorder and related equipment manufacturers. While we have strived to provide the best information available to us, there will be corrections and additions. We include personal stories about the companies when they are provided to us.  We always invite input on corrections and updates. Thank you!
Statistics 2014 • 2015 • News coverage #1 News coverage #2 • view overview video of tape recorder collection • mobile video • more info • See also Multi-Track recording
Go to: • 3M • AEG/Magnetophon • Akai • Altec • Amplifier Corp • Ampex • Ampro • Astatic • Astrocom/Marlux • Bang & Olufsenl • Bell & Howell • Bell Labs • Berlant Concertone • Beyerdynamic • Brüel & Kjær • Brenell • Brush • Cetec Gauss • Concord • Craig • Crown • Denon •Dokorder • Dual • Edison • Eico • Electro Sound • Electro Voice • EMI/Gramophone • Ferrograph • Fostex • Freeman • Grundig • HeathKit • ITC • JVC • KLH • Leevers Rich • Lyrec • Magnecord • Marantz • Maxell • MCI • Mitsubishi • Nagra • Nakamichi • Neumann • Newcomb • Neve • Oki • Otari • Pentron • Philips • Pioneer • Presto • Radio Shack/Realistic • Rangertone • RCA • Reeves Soundcraft • Roberts • Rola • Sansui • Scully • Sennheiser • Shure • Solid State Logic • Sony • Soundcraft • Spectone • Stancil Hoffman • Stellavox • Stephens • Studer ReVox • Tandberg • Tape-Athon •Tapesonic • Teac/Tascam • Technics • Telefunken • Tolnai • Toshiba • Uher • Viking • Vortexion Ltd UK • Webster Chicago/Webcor • Webster Electric • Western Electric/Altec • Wilcox-Gay • Wollensak
UK Companies with tape recorders in our collection
There are 2 United Kingdom reel tape recorders in our collection. One is the Brenell Mark 5 S2 that was added because of the history with John Lennon.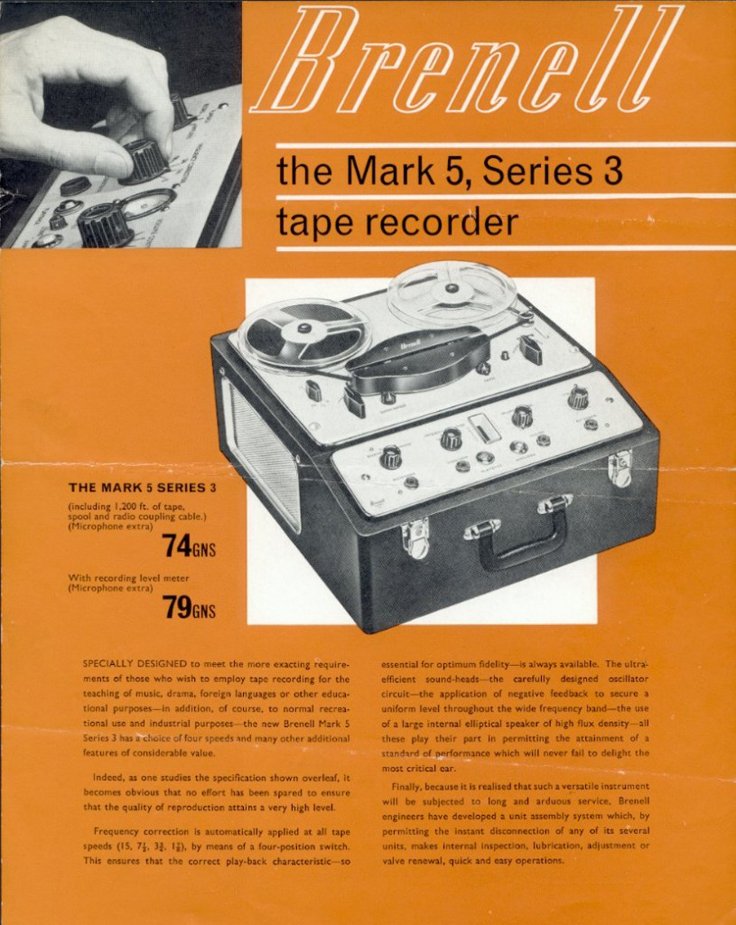 The other is the Spectone which we came across in a jumble shop near my wife Chris' home in Suffolk, England.
Brenell
First a bit about the Brenell.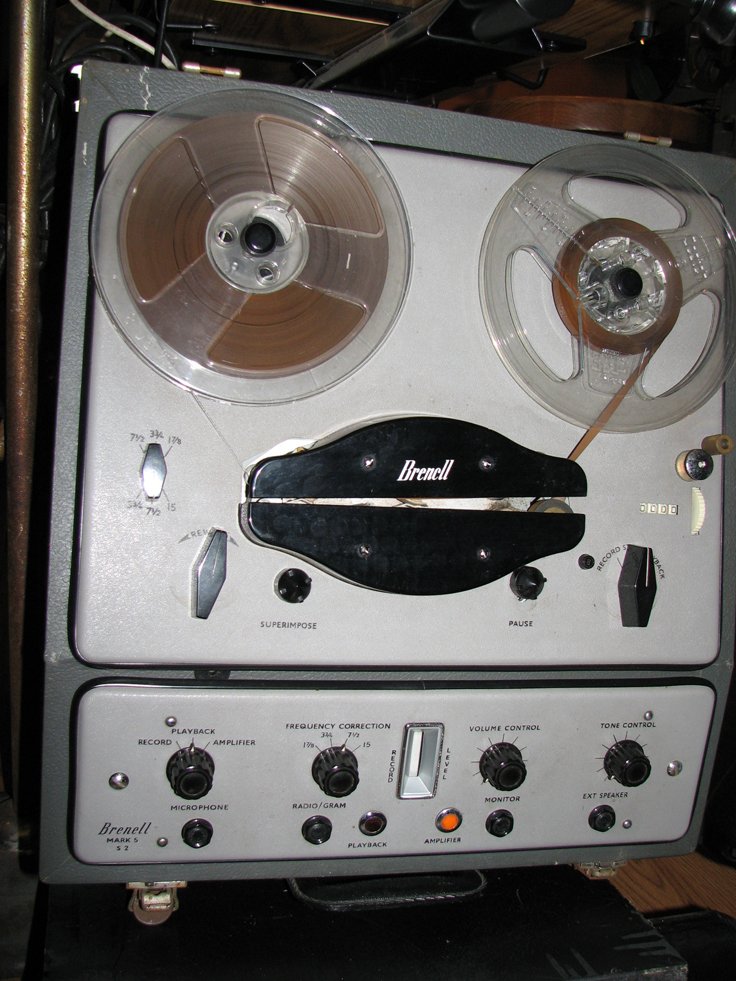 In 1947, Brenell Engineering Ltd. were small, precision jobbing engineers, based in Northington Street, Clerkenwell, London. They made simple optical toys and metal screw caps for, it is believed, the photographic industry.
 
Founded by Czech refugee, Robert Hahn and Peter Glazer, who both served with the RAF during the war, they were contracted in 1953 to design and build a tape deck for a new home-assembly tape recorder, the "Sound Master".

The four speed, four-head Mk.5 is probably Brenell's most famous and attractive model. 
The standard Mk.5 (which is in our collection) had a more basic 2-head configuration and simpler pre-amplifier with a central side-on 'magic eye' level indicator. Like all previous Brenells, the pre-amplifier had an output stage for the internal speaker and with its standard Lustaphone LFV59Zmmicrophone could be used for public address!

- brenelltape.co.uk
Brenell produced many more recorders including professional multitrack machines.
In January 1984, Brenell Engineering Ltd was formerly dissolved.
Brenell Mark 5 documents donated by Brian Parker - United Kingdom Brenell Mk 5 Manual pdf • Brenell Tape Recorder Circuit Diagram pdf • Brenell Tape Recorder Specification Sheet pdf
John Lennon with Brenell Mark 5s given to him by Paul McCartney
---
Spectone Recorders
Specto Limited
Vale Road, Windsor, Berks
United Kingdom
1957 - 1961

Spectone in our collection Spectone Specs


Ads
---
Other reel to reel tape recorders for sale in the UK during this period included:
Baird, Collero, Elizabethan, Daiwa, Fi-Cord, Geloso, Harting, Kurland, Magnafon, Minifon, Motek, Simon, Sonomag, Stuzzi, Tandberg, Telefunken, Verdik, Walter, Winston and Wyndsor
Tour our collection!
We offer seven hours of 50 video segments via download about our collection and the history of magnetic recording available at this link.

ORDER THE VIDEO FILES ON LINE - was 14.95 NOW only $9.95
There are 50 QuickTime H264 854 X 480 files in this download. Play on MAC OS or Windows Media Player
We provide 48 hours during which to download the files. After that the file access will expire. Once the files are downloaded they are yours to keep.
© 2018 Museum of Magnetic Sound Recording • Webmaster • All pictures and content on this web site are the property of the Theophilus family,the Museum of Magnetic Sound Recording and reel2reeltexas.com • Photos of items in our collection are available for sale. We do NOT provide copies of ads, nor photos from other sources! All photo work is billed at studio rates and a deposit is required.